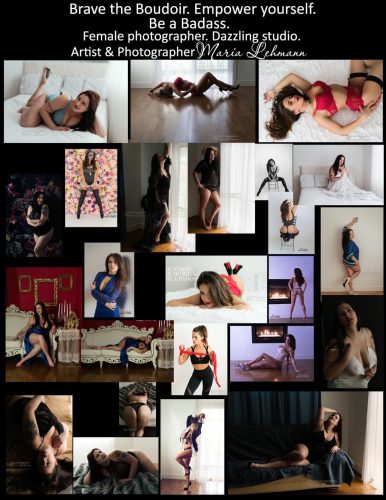 Thank you so much for booking the photo shoot! Don't be nervous; it'll be fun.
A little behind the scenes    HERE
Seven the most important things I want you to know:
1.  Renew nails shortly before the shoot. It's almost impossible to Photoshop cracks on nail polish.  Nude nails are better than not perfect nail polish.
2. Moisturize your skin. Do it at the night before the shoot. And in the morning.
3. During the shoot we'll do a lot of this: https://www.youtube.com/watch?v=fE6Gbbn2LKQ
and this: https://www.youtube.com/watch?v=ezNcZFOBGrI
No need to remember it; I'll watch for your chin and hands.  Just to let you know why I'm doing it.
4. No spray tan before the shoot or let me know ahead that I could prepare different props.
5. Shoes are better in one color.  And black or nude shoes are the best. Also, bring as many as you want shoes and we'll go over and can change during shooting.
6. Do not wear too tight underwear/bra/socks right before the shoot.
7. Encourage you to do some exercises, stretching, yoga and etc. We'll do a lot arch your back/stretch thing. There are a lot of stretching videos on YouTube or I personally like these free videos: http://www.essentrics.com/media.html   .
Dos before the shoot:
Get a good night's sleep.

Moisturize your skin to make it supple and will appears gorgeous on camera.

Get a manicure and pedicure shortly beforehand.
 Don'ts:
No tans immediately before the shoot.  Schedule the tan 4 or 5 days prior to the shoot.

No Botox or collagen a week before the shoot.

No negative self-talk allowed once on set.  Only  LOVE YOUR BODY
Wardrobe ideas:
The minimum you can bring and still get the most beautiful photographs are:
A.  Undies in black (also can bring white or nude or pale rose pink). I personally love lace or some cool undies. ?
B.  Marching PUSH UP bra in black (also can bring white or nude or pale rose pink).
D. A black body suit, can be not expensive from Forever 21 or Amazon.
C.  Tank tops if you want to cover belly.
More options are here (and really they're extra that we absolutely can shoot without):
Men's shirt
His underwear 🙂
His Work Clothing (without him noticing you took it). Surprise him later.
Printed scarf or shawl
Hot heels
Jewelry statement piece
Black lace panties
White tank top or t-shirt (if you want to go girl-next-door bra-less option)
Thigh highs and garter belt – super-sexy items flatter every woman's legs and are a symbol of sexiness.
Personal items: that killer outfit you feel amazing wearing
Oversized or long knitted sweater
Team Jersey
Mask – I have a few black masks.
Flattering different types with wardrobe:
Curvy bodies: tank tops, satin robes (I have a tons). Avoid loose-fitting clothing. Wear fitted clothing and go for sung but not too tight – clothing should hug your body, not squeeze you.
 Small chest: high-fashion tops wearing without a bra. Use push-up padded bra or bra inserts.
 Thin, no curves: push up bras. A dress with a waist belt.
Shorter legs: high heels (especially nude shoes).  Avoid shoes with ankle staps, a square toe and chunky shoes. High-waisted skinny jeans.
Leave the rest to me and have a good time without the burden and worry of "trying to look good".
FAQ
Will you post my photos on-line?
I do not post customers images.  I take my customers' privacy very seriously and do not use any pictures or photographs in part or in full, on any website or through any medium, for promotional or whatever reason.
I have more than enough photographs with models for my portfolio and never ask customers to post images.
Do you style the shoot?
Please note, I do not provide lingerie and shoes.
What about the studio?
My beautiful studio has many setting including French provincial white leather couch and queen size bed. About and the studio
I don't have any modeling experience.
Good! Posing is my specialty and during the photo shoot, all poses will be described and demoed to you and your input will be respected. Regardless of if you have modeling experience or not, you will have a fun experience taking your photographs.
Can I bring a friend/kid to my session?
Not a good idea for friends to be during the shoot however.  And absolutely no kids. Thank you for understanding.