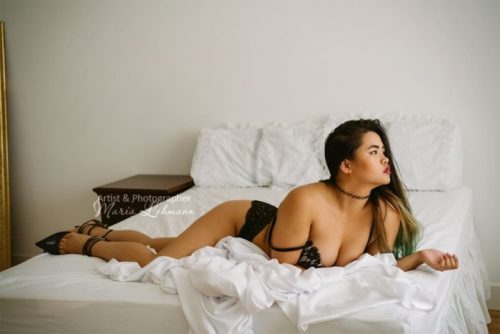 White Sheet is super fun and secure way to shoot boudoir. Super flattering and forgiving.
---
Since society has high standards, every woman has insecurities. Everybody think I should look like a cover of a magazine. And this is not the case. Everything should not be perfect.
I have insecurities all women have (like my stomach, wrinkles and more). I see insecurities and flaws in the mirror every day.
But at the same after seeing and editing thousand images on my screen with 200% zoom, I remember only beautiful bodies, eyes and personality.
I must assure you, your loved ones are same; they do not see your flaws. They see your beauty and warmth.
Do not be down on yourself. Love yourself, love your body, love exactly who you are.
But it's hard to tell yourself.
Women do not see what everybody sees and my goal is to show that.
As a photographer my purpose is to let every woman leave my studio with feeling she is worthy.
I know how to work around body and show how gorgeous the person is.
It may sound ridiculous to say: I'm insecure; I'm going to do photoshoot .
But it's really a cure. It changes your attitude completely. It's crazy. It's very empowering and liberating experience.
It's so much easier for a woman to look at a woman and praise her futures.
It's almost rocket science to pose women's body especially in lingerie.
Because they are very vulnerable and they trusting you with their bodies to make them look good.
And when see photographs, they are like: Is it me? I cannot believe it's me. Is it really me?
When my clients are coming, I do not want them to feel they need to know how to pose and be a super model. I do not expect them to know how to pose.
I show them exactly what to do. I give easy to remember nicknames for posting. I show images we're going to shoot. Just encourage to do yoga or stretching and moisturize your skin before the shoot and leave the rest to me.
There are so many different interpretations in boudoir and so many different photographers.
And my goal is set myself apart. I do not want to be known as sexy and racy.
The point of the shoot is not seduce or turn anybody on.
It's about celebrating woman' confidence.
My job is so fulfilling. But yes, emotionally draining. By the end of day, I know it's totally worth it.
Again, it's not about seducing and turning somebody on. It's about YOU.
Just making yourself feel good and embracing and owning what you've got.