Last Time Updated: October 10, 2021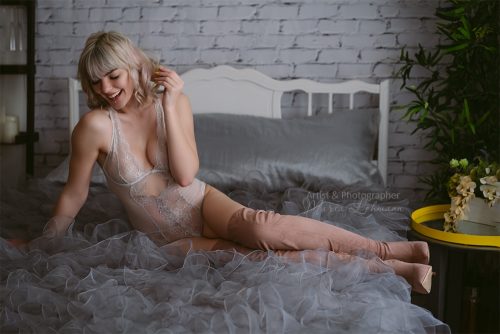 Are you ready to empower yourself!
There are so many reasons to shoot boudoir; what is your intend?
To feel like a badass? To see yourself in a new light? To empower yourself?  A gift for Him and at the same time, something for you?  Yes, yes and yes.  Just do it!
I'm the female photographer Maria doing photography for many years since that dark room era.
I was blessed to photograph a lot of ladies in any possible age/shape and etc.
Most likely, you'll see the most beautiful and hottest photographs of you. Yes, I'm such a badass and you also will feel like a badass after the shoot.
In addition, I photograph light/airy , dark/moody and all in between styles.
If it was not good enough, my amazing famous studio has so many settings  and you can see the ideas below.
The boudoir photo shoot is probably one the scariest things you've done; however, it's empowering and liberating experience.  The pricing is up front. 
Why to get photographed by me:
Professional female photographer
Experienced with all body types
Amazing & unique studio
So many setting to choose from
Licensed
Affordable pricing
Digital Files are included!
Finally, try what is it about
See yourself in a new light!
What to wear? Is hair/makeup included? All info is posted for you (or send me a message).  I'm looking forward to meeting and photographing you!
Thank you,
Maria
PS.  Please let me know if you have any questions >>>
CONTACT US
Are you ready for your Badass/Goddess photo shoot!
Brave the boudoir; empower yourself!  Badass/Goddess beauty photoshoot.
I provide boudoir photography in Vancouver at the gorgeous Delight Photo Studio located in South Surrey (near Vancouver, Langley, Richmond, Burnaby and all Lower Mainland).   Hours: 11 AM – 5 PM (by appointment only).
The shoot is every empowering and Maria made me feel super comfortable. The end results were jaw dropping. Pictures came out amazing!!! I felt wonderful after my photo shoot. So empowering! I highly recommend to do the shoot. Thank you!!
Boudoir Photography Vancouver